Guided Tour Aranda de Duero
ARANDA DE DUERO
We will stroll through the center of the city, where it is worthy to mention the richness of the Church of Santa María and Church of San Juan
VISIT OF SANTA MARÍA CHURCH
We will visit the interior of this Church which is the most famous symbol of Aranda. It was built in the XVth century. We can admire in its interior some remarkable works of art, such as the reredos from the XVIIth century and a beautiful Renaissance pulpit.
CIAVIN – WINE'S AND ARQUITECTURE MUSEUM
The Wine Architecture Visitor Centre is a gateway into the unique group of mediaeval wine cellars to be found beneath the historic centre of Aranda de Duero. It is located in an ancient building from the XVIIIth century which will help us to understand the historical legacy of the wine in Ribera del Duero
GUIDED TOUR IN EL ROMELLÓN UNDERGROUND CELLAR
We will visit one of the 120 underground cellars built in the XVth century, which is still in use nowadays. We will get deeper in the heart of the town.
1 / 4
Caption Text
2 / 4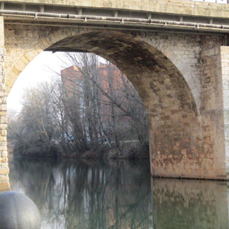 Caption Two
3 / 4
Caption Three
4 / 4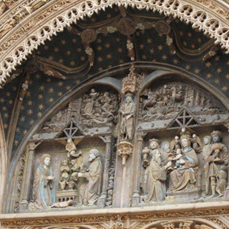 Caption Three